Foerster Distributing
Since 1996, Foerster Distributing has been the leading, local supplier of office, restaurant, hotel, bar, and janitorial products to South Dakota and the surrounding regions of South Dakota. We specialize in providing businesses with quality products at a reasonable, affordable prices, to help them run more efficiently.
Quality Products at Affordable Prices in South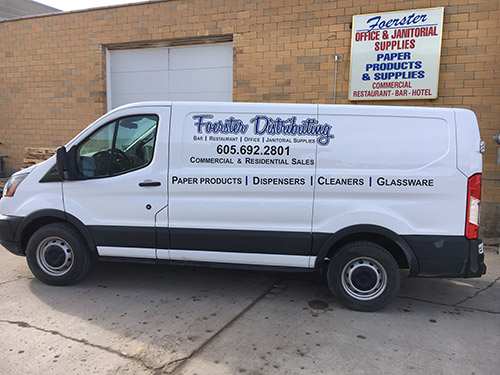 No matter what type of business you run, supply chain management is critical to your success. Being able to order products and have them delivered on time, at an efficient cost, from a reputable partner, can make or break your business. At Foerster Distributing, we understand the critical role a reliable distributor plays in business success, which is why we set ourselves apart as an office, restaurant, hotel, bar and janitorial supply company in South Dakota. Our mission is simple: get local businesses the products they need quickly and affordably, to help them prosper and grow! We take our role seriously and always go above and beyond to support our local partners.
As a restaurant and office supply company in South Dakota, we know that timeliness and price count above all other variables. You won't find a faster supplier in the business—we get you the products you need without delay, because we know business doesn't just stop! And when it comes to pricing, we work with you to provide exceptional products, from brand names you trust, without breaking your budget. As a small business ourselves, we understand how vital it is to stay consistent and maintain margins—our pricing reflects this. We want to be your partner for vital business supplies! Take a look at just a few more reasons our clients have trusted us for decades:
We're a proud member of our local Chamber of Commerce.
We support Downtown Brookings Incorporated and are invested in our local community!
We've been in business since 1996 and are locally-owned and –operated.
We're pleased to provide all prospective customers with free quotes on all of the products we offer.
Our products are available to both residential and commercial customers.
Get Quality Products Today
If you're looking for products to help your business run smoothly, priced affordably and provided by a local company, we invite you to contact us today for information and pricing.
Areas Served
Proudly delivering office and janitorial supplies to the following areas:
Brookings, SD
Volga, SD
Aurora, SD
Madison, SD
Flandreau, SD
Watertown, SD
Sioux Falls, SD
Bruce, SD
White, SD
Sinai, SD
Elkton, SD
Toronto, SD
Hendricks, MN
Deuel County, SD
Brookings County, SD
Lincoln County, MN
Moody County, SD
Lake County, SD
Kingsbury County, SD
Hamlin County, SD